With so many hours lost to the pandemic, UK educators must make the most of learning time. That's why Microsoft Surface devices are such a great fit for schools and colleges — and their IT teams especially.
Without a doubt, technology will also play a vital role in helping schools and colleges to get students back on track.
New figures show that 270 million school days were missed in the first year of the pandemic alone. That's over 20% of learning time. To help address the issue, the UK Government has set out plans for a minimum school week of 32.5 hours, plus more Ofsted inspections and extra funding.
Without a doubt, technology will also play a vital role in helping schools and colleges to get students back on track.
Big demand, stretched resources
To make the most of classroom time, teachers and lecturers require all the intuitive apps, tools, and features that support learning. School IT managers also need a kit that's robust and simple to manage — especially if teams are stretched or under-strength, given that the UK's digital skills shortage hit an "all-time high" in recent times.
At Vohkus, we're seeing how Microsoft Surface answers these needs, covering the essentials but also adding flair and imagination. We've been impressed by the all-around suitability of the Microsoft for education range — which has been boosted by the arrival of the Microsoft Surface SE laptop, the most affordable Surface device, designed for students.
Let's take a deeper dive into the features and benefits of Microsoft Surface SE from the viewpoint of IT teams...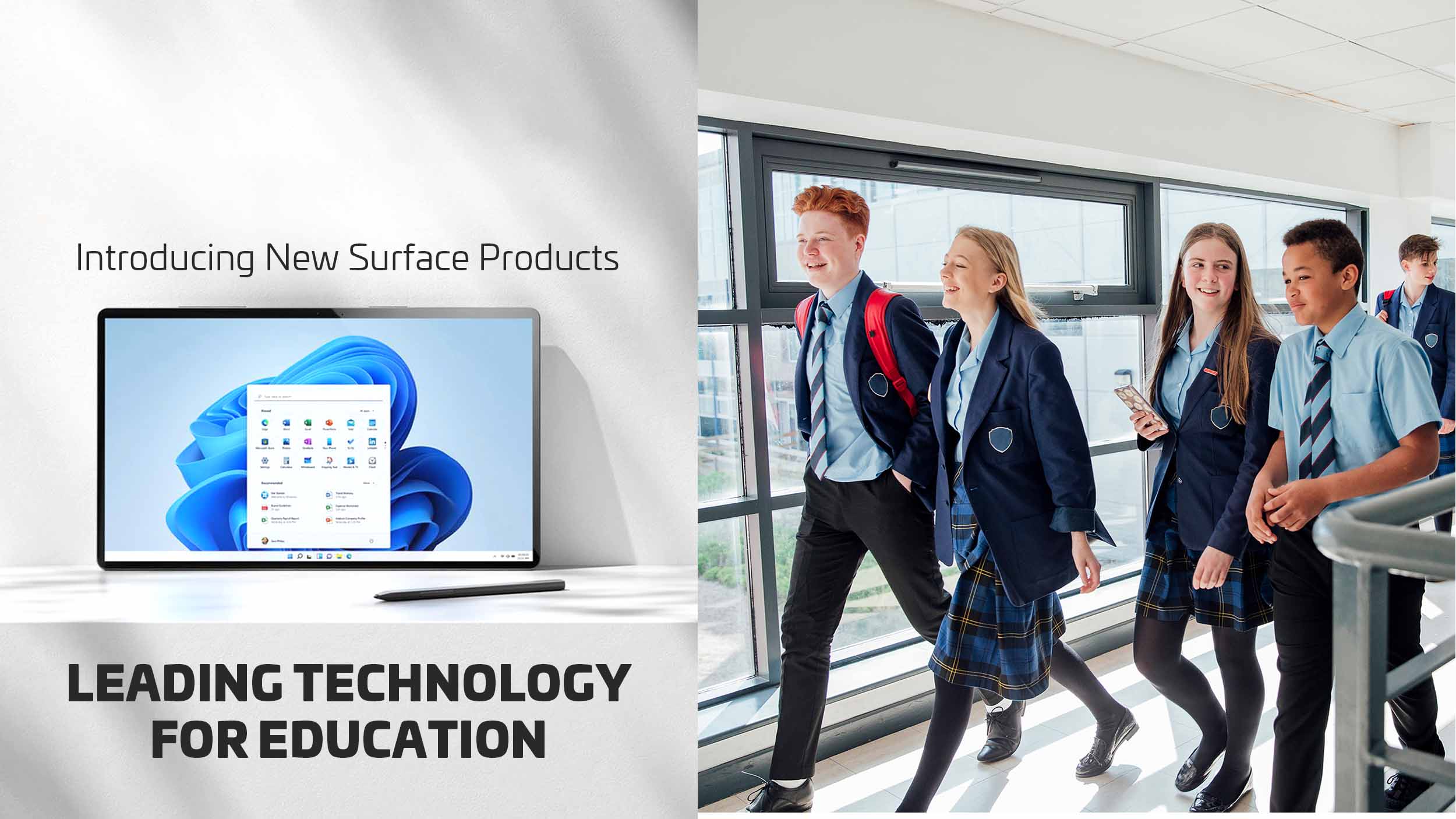 Microsoft for education today
In the business world, it's a common complaint from employees that their company's corporate systems lag the tech they use in their personal lives. This is seen in education too when teachers and students feel that the school's tech is holding them back.
But the agile Microsoft Surface SE brings education right up to speed. Designed for Windows 11 SE, the laptop has Office 365 education benefits, including Microsoft Teams, Office 365 tools, and a range of curated, educational apps. The Microsoft Surface SE also boosts a full keyboard and rear-facing camera. The laptop can serve as a whiteboard and students can live stream all the notes from the teacher.
Different learning styles and abilities are supported too, with features such as a magnifier, colour filters, high contrast modes, and the Immersive Reader from Office 365.
To make the most of lesson time, the Microsoft Surface SE's modern processor loads apps and files quickly. And the long-lasting battery life — up to 16 hours — is incredibly important to see students through the school day and into their homework.
Microsoft Surface SE deployment
IT teams are able to reduce complexity and save hours, thanks to zero-touch deployment using Windows Autopilot. They can configure and customize images quickly and easily. Once the Microsoft Surface SE connects to the network, students simply sign in and start learning right away.
So, it's no wonder that Microsoft Surface SE and Office 365 education packages appeal to school IT managers. But the benefits extend beyond deployment: IT teams can keep students and their tech protected through built-in security and manageability by design.
Chip to cloud protection
Every layer of security is maintained by Microsoft for education customers without any reliance on third-party source code. Security extends from the hardened firmware to the operating system, through to cloud management.
You can protect your kit against known threats in real-time and get updates automatically with Microsoft Defender ATP. This proactive protection provides peace of mind for staff and students, whether work is done at school or at home. A sandboxed environment is used for storing passwords, PIN numbers, and certificates.
IT teams benefit from one-click device management. You can control mics, USB ports and Bluetooth. It's also possible to disable webcams, lock the operating system when the laptop is closed, and control physical access using the integrated Kensington Nano Security Slot.
Microsoft for education: Support
Aside from the provision of warranties and protection plans, it's worth noting that Microsoft Surface devices are proving simpler to troubleshoot and manage. For instance, Microsoft found that IT help desk call times in business environments reduced on average from 45 minutes to 15 minutes with Microsoft 365-powered Surface device deployments. Microsoft also reports a 67% reduction in help desk support calls among users.
If there's any need to make repairs yourself, then there's more good news: The Surface Laptop SE is highly serviceable. In fact, this is part of Microsoft's mission to drive sustainability across the Surface range. As this helpful video shows, IT admins can take laptops apart and replace keyboards, displays and batteries quickly using minimal tools.
Star performance in education
"Schools and colleges choosing Microsoft for education are able to achieve far more with fewer resources", says Dave Johnson, Workspace Solutions Manager from the Education team at Vohkus.
"Devices such as the Microsoft Surface SE combined with Office 365 education capabilities are just what teachers and students need right now. At the same time, IT teams can reduce cost and complexity, while focusing their resources on getting their schools and colleges performing at the highest level using the right hardware and apps."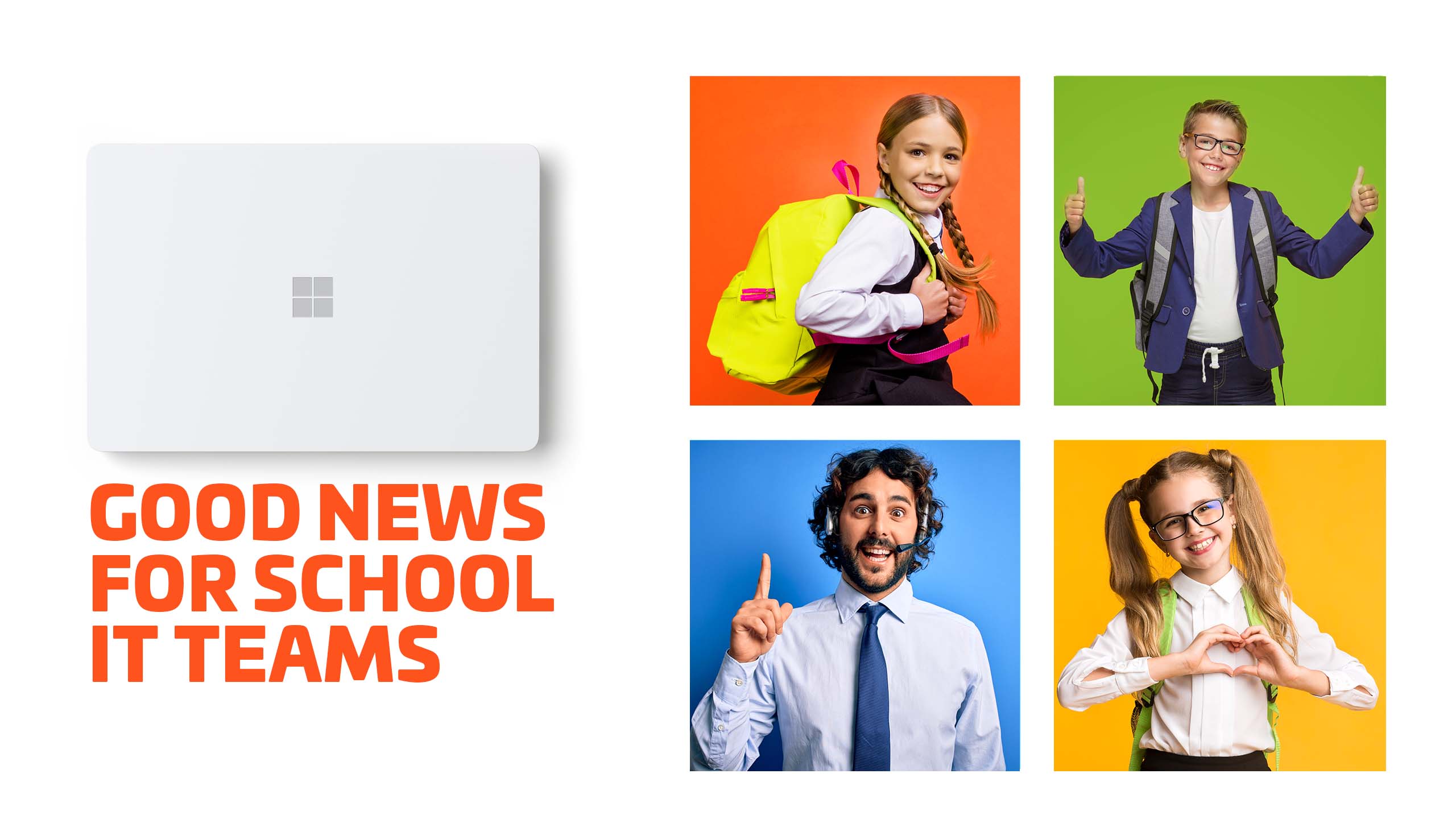 Access resources quickly with Vohkus
Schools and colleges can source Microsoft Surface devices and other technologies quickly and easily from Vohkus. We are approved suppliers under the Government's MR6147 framework agreement, which provides public sector buyers with access to off-the-shelf hardware, software and related commoditised services. You can expect great prices as well as available stock shown in real-time.
Here's where you will find our product listings on the Government's purchasing platform. New education buyers can register for the service here.
Discover more
Find out about Microsoft for education Surface devices and how Vohkus can help you to succeed.