Will remote or hybrid working be a big part of your company's strategy for months and years to come? If so, there's a growing threat you must recognise and combat. Fortunately, Vohkus can help your enterprise to find the answer.
According to recent research, the pandemic has led 88% of companies world-wide to switch to a remote working model. And the change looks set to stay.
Another study found that a majority of office-based workers want to work remotely over two days a week on average and three quarters of them want to continue working from home on a regular basis.
Businesses are seeing the benefits too, with a survey by the Institute of Directors showing that 74% of company leaders intend to maintain the increase in home working, according to the BBC.
However, the trend has its drawbacks — and that's not just because of work/life balance issues or parcels being delivered in the middle of important conference calls. Another major issue is emerging ... a deeper-level cyber threat, which is causing concern among IT security professionals.
FIRMWARE TARGETED
As IT professionals know, current network infrastructures were not built with today's security needs in mind. And this becomes a particular problem as cyber attacks get more sophisticated.

While many cyber threats can be prevented at the software layer, others are increasingly targeting the firmware and pre-operating system (OS) layers of computer systems. Hackers are now designing more malware for this purpose.

Malware can strike in the moments before the OS and its protections are loaded. What's more, the national vulnerability database managed by the National Institute of Standards and Technology has seen a five-fold increase in the number of firmware vulnerabilities.

The consequences of a data breach are well known, such as stolen IP, lawsuits, fines, reputational damage and lost business. So what can organisations do to protect themselves?
NEW THREAT, NEW RESPONSE

Given the risks, it's likely that combining hardware and software to create a strong security posture may be the only proactive way forward. But this can be achieved with an integrated out-of-the-box solution for laptops and other devices operated by employees.

To put it simply, "built-in" is better than "bolt-on".

This approach has been adopted successfully with Microsoft Surface for business devices and secure-core PCs. Every layer of Surface is developed and maintained by Microsoft — from chip to cloud. Rather than simply detecting attacks, the technology prevents them, thanks to its hardware-integrated security.

This kind of protection stays with the product. It's part of the design, checked before shipping, kept updated and then managed via the cloud. With Microsoft Surface for business technology, you can defend your enterprise against hardware and supply chain attacks, ensure each stage in the boot cycle launches authentic code, and protect identities.

It's no wonder that Microsoft Surface for business seems to be setting a new gold standard in endpoint security — attracting enterprises to models such as the Surface Go 2, Surface Pro 7+ and Surface Laptop 4 for business.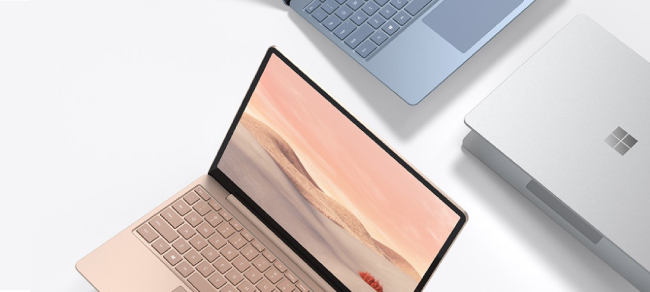 POWERFUL BUSINESS CASE
For companies with remote workforces, this holistic strategy provides extra control, proactive protection, and peace of mind. You get security, deployment and manageability by design with Microsoft Surface for business.

The business case is compelling too. According to research from Forrester*, organisations have been able to reduce risk and lower costs with Microsoft 365–powered Surface devices.

The study highlighted a 20% reduction in security breaches for Surface users. Meanwhile, companies achieved a 17% drop in endpoint security spend and they cut their mobile device management spend by 14%.

DISCOVER MORE

Find out more about Microsoft Surface for business and the devices and laptops available. At Vohkus, we'll be glad to talk you through as hybrid and remote working becomes embedded within your strategy.

You can also request a quote from us today, whether you're interested in the Microsoft Surface Pro 7+ with its portable power and Wi-Fi 6 compatibility, or intrigued by the Microsoft Surface Laptop 4 for business and the way it's optimised for greater productivity.

Our expert team can help with Microsoft Surface for business devices and other technology needs. Vohkus is a Microsoft Gold Server Platform Partner with accreditations in volume licensing, management and virtualisation, and as a midmarket solution provider.


*Source: A commissioned Total Economic Impact™ study conducted by Forrester Consulting on behalf of Microsoft, July 2020. "Maximizing Your ROI from Microsoft 365 Enterprise With Microsoft Surface."